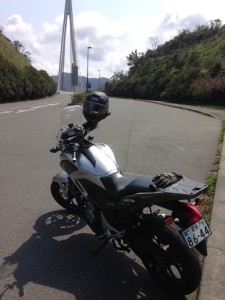 Another beautiful day in Shimane… I decided to take the bike out today to seek out a nice spot to drop-in with the new stand-up paddle board. While I know of a few places already, I was hoping to find something new. I spent the day riding along the coast, following some of the same roads as from the Winter Seaside Ride post.
I came across fishermen, a couple of scuba divers taking a lunch break, and some surfers as well. I ended up finding a great spot just the other side of the "意味ない橋" (Meaningless Bridge), or the Marine Bridge, as they actually call it. There is a nice little protected cove, behind a tetrapod barrier, perfect for launching from. It gives access to a few small islands, which are perfect for fishing, as well as a nice starting point for a trip beneath the bridge. It seems like commercial traffic may be something to consider, but I can't wait to strap the SUP to the back of the bike and paddle out do do a lap of the islands.
It looks like I can do a  few nice routes from this launch point. There are three islands; Majima, Yanajima, and Setogashima, which is the island the launch point is on.  A lap around Setogashima would be nice safe option, as there are no potential crossings of commercial traffic from the port. Yanajima is the next safest, being the smaller of the two other islands.  I guess I will just have to get out there and see how it goes sometime soon.
I think a sunset paddle would be fantastic in this area…