Since paddling along the coast the other day, and observing all of the men out fishing on the cliffs as I passed by, I have been obsessed with the idea of trolling behind my SUP. It has driven me to distraction…
All week I have spend my evenings sketching ideas and furtively googling "fishing SUP" and perusing the links. While I found a lot of avid fishermen out there on SUPs, which led to sketches like the one above, I just did not think that was what I was looking for. Most of these people seemed to be fishermen first, and paddlers second. I, on the other hand, find myself leaning the other way. As such, I was really interested when I found a few posts about an avid paddler who just happens to drag a trolling line behind her.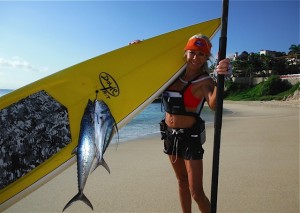 This seemed much more my speed. Here is a gal who goes out with barely more than a line, and brings back some impressive fish. Reading up on her set-up had me reworking my plans. She actually ties her line off to her paddle, which somehow does not get in the way of paddling, and just tosses it aside when she gets a hit. She then pulls in the line hand-over-hand. To get this to work for me, I mocked up the image on the left. The idea was to connect the line to the paddle near the handle, and run it through a carabiner connected to the side carry handle. This way a strong hit would pull forward, rather than back, so I would be more likely to land on the board if I hit sent me reeling. Also, I added a float to the paddle, and another by the carabiner to keep from damaging the paddle if it were pulled up tight.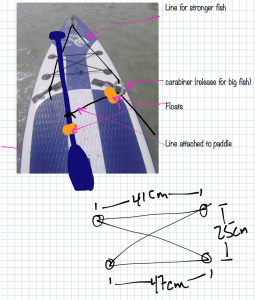 Additionally, I started wondering what would happen if I hooked a ヒラマサ (Yellowtail Amberjack) rather than a ワカナ (Japanese Amberjack) as planned. While ワカナ, which the name for a juvenile of the species, are about 30 to 40 cm, ヒラマサ run a meter or larger. They are both also known as 'fighting fish', so they pull. So, I decided that I just may have to rig things so that I can run the line through the bow loop if a larger fish starts to drag me. As my SUP only has a 30 inch beam, I don't think things will go to well if a strong fish starts pulling perpendicular to the board.
It was at this point that I realized that I was complicating things, so I just hopped in the car and headed over to the fishing shop. I ended up buying some line, lures, and a hand reel to get started. Then I went all out and picked out a 'fish grabber', pliers to remove hooks, and a stringer to drag my catch. This last one is the most interesting to me, as I once read, and had confirmed by the fish shop clerk, that if you hang Amberjack on a stringer they tend to attract other amberjack. It's like chumming for fish with their chums…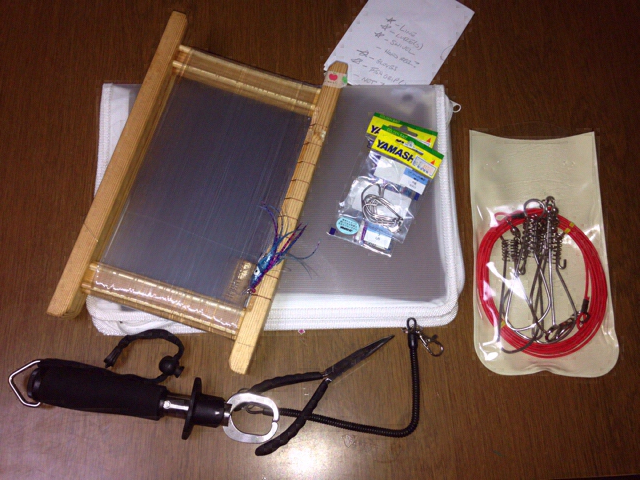 So there is the simplified kit. It should all fit easily under the lashings on the front of the board without adding much weight. That means that as long as I don't catch any fish I could still use the bike to bring the SUP to the beach. I am sure that the wife would be more than happy to provide some 'fish taxi' service on the off-chance that I actually get my hands on something…