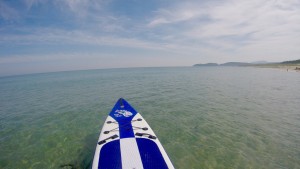 No matter how many times I visit Tatamigaura, I always find it interesting. More so now that I can view it from the sea. It is a quick trip from the Iwami Seaside Park (which is a GREAT camping area), so it makes for some good exploring.
I have actually paddled the area a number of times already, but since it was a beautiful Sunday morning, and my head was still a bit unclear from the Saturday night camping activities, I thought it would be a great day to take it slow. The water agreed, as it was as smooth as glass, which makes it far easier to hug the rocks and navigate the more interesting caves and inlets.
In the interest of brevity, the video I threw together is just highlights, but I hope you find it interesting. Even though I was there in person, and alone to boot, I still enjoy watching it. I have also consciously decided to not add background music to paddling videos, as it is the stillness of the experience that I truly enjoy. Gliding along with nothing but the sound of my paddle and board moving through the water accompanied by waves slapping rocks, birds calling out, and the occasional sound of fish jumping and/or flying.
Here is an album of some highlights from the paddle.
I actually spotted a few fish on this paddle, and a number of fishermen as well, so a trolling rig for the paddle board is in the work. I am hoping to be catching my dinner during my weekend paddles from now on.